Financial Institution
Trade Associations
Corporate
Government
Small Business
Nonprofit/Community Based
Organization
Individual/Realtor
Student or Resident
Connection to a statewide network of leaders and organizations

 

Education Opportunities

 

Connection to homeowners and potential clients

 
Forum for thought leaders and space to share information
Access to government and nonprofit resources for homebuyers

Advocacy work through membership in committees  
Recognized as a trusted partner within the statewide network
Ability to use the brand for marketing

 

Public promotion through communications and events 
Proposed Membership Committee Focus
Advocacy

& Policy

Outreach& Marketing

Affordability

Housing Quality, Safety, & Health

Foreclosure Prevention

Education

Race & Equity
Buy
Increasing First-Time Homeownership By reducing barriers that impede access through educational opportunities, low-cost financing, and ongoing counseling and support.
Keep
Preventing Property Tax & Bank-Owned Foreclosures Through an array of programs and services that align with the foreclosure process from early intervention to severely delinquent.
Fix
Statewide Homeownership Network Develop sustainable framework for a statewide network and build a coalition of local treasurers, stakeholders, realtors, and community partners to help Wisconsinites buy, fix, and stay in their homes.
NonProfit/Community Based Organizations
LaCrosse Habitat for Humanity
Milwaukee Habitat for Humanity
Wisconsin Habitat for Humanity
Wisconsin Realtors Association(WRA)
ACTS Housing
WisTAF
Metropolitan Milwaukee Fair Housing Council
All 18 Community Action Program Agencies
Mediate Wisconsin
Individual/Realtor
Teri Jacobson-Kenosha Treasurer
Financial Institutions
Associated Bank
Wintrust Mortgage
Johnson Financial Group
Government
City of Madison
WHEDA
Network Partners and Supporters
Freddie Mac
Urban Economic Development Association of WI (UEDA)–Take Root Milwaukee
Sarah Godlewski- State Secretary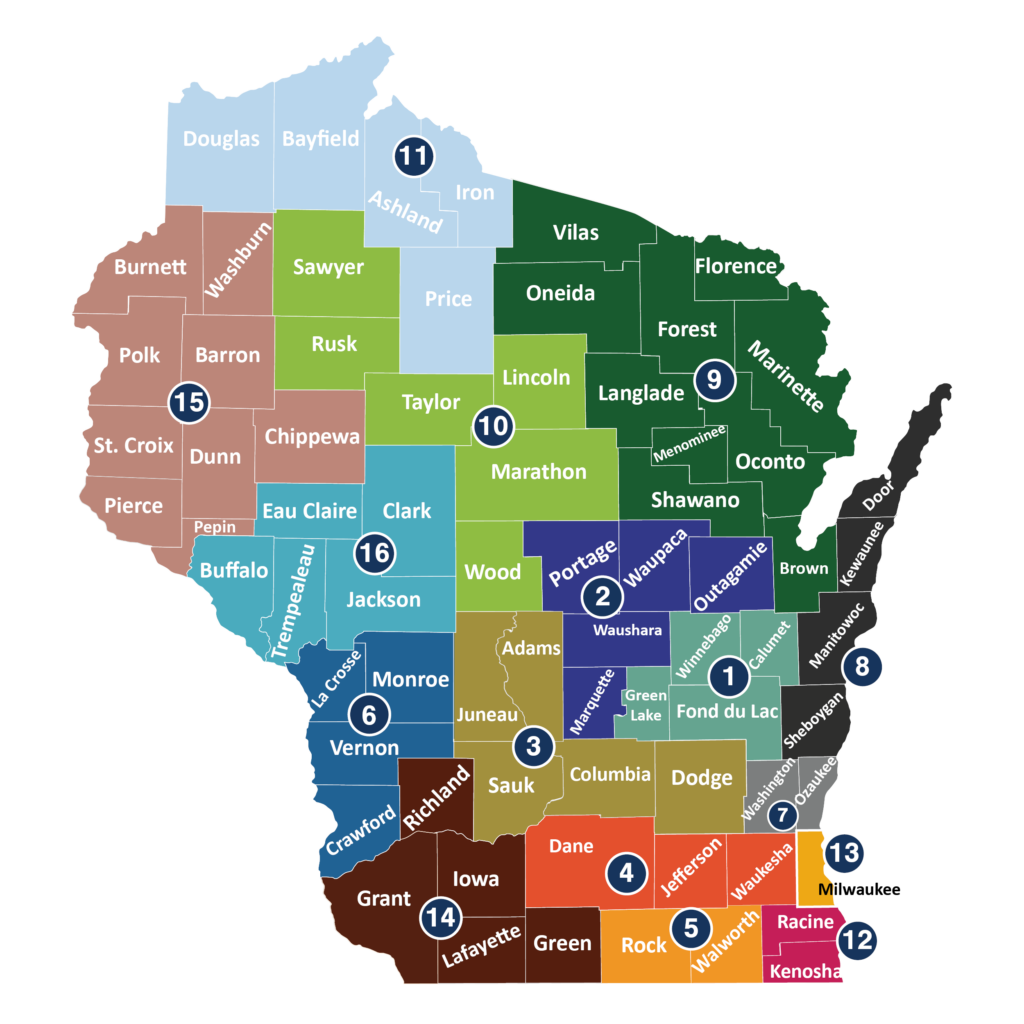 # on Map
Agency Name
Counties Served
Phone Number
Website
 1
 ADVOCAP
Green Lake, Fond du Lac,
Winnebago 
 920-922-7760
Click Here 
2 
CAP Services 
Portage, Waupaca, Outagamie,
Waushara, Marquette 
715-343-7500 
Click Here 
3 
Central Wisconsin
CAC
 Juneau, Adams, Sauk,
Columbia, Dodge
 608-254-8353
 Click Here
4 
Community Action
Coalition for SCW
 Dane, Jefferson, Waukesha
 608-237-1255
 Click Here
5 
Community Action, Inc. of
Rock & Walworth Counties 
Rock, Walworth 
 608-313-1300
 Click Here
6 
Couleecap 
La Crosse, Monroe, Vernon,
Crawford 
608-782-4877 
 Click Here
7 
 Indianhead Community
Action Agency
Burnett, Washburn, Sawyer, Rusk,
Taylor, Clark 
715-532-4222 
 Click Here
8 
Lakeshore CAP 
Sheboygan, Manitowoc, Kewaunee,
Door 
 920-682-3737
Click Here 


9 


Newcap 
Vilas, Oneida, Florence, Forest,
Marinette, Langlade, Menominee,
Shawano, Oconto, Brown 
 
920-834-4621

Click Here 
10 
North Central CAP 
 Lincoln, Marathon, Wood
 715-424-2581
Click Here 
11 
Northwest WI Community
Services Agency 
Douglas, Bayfield, Ashland,
Iron, Price 
715-392-5127 
Click Here 
12 
Racine Kenosha
CAA
Racine, Kenosha 
262-637-8377 
 Click Here
13 
Social Development
Commission 
Milwaukee 
 414-906-2700
 Click Here
14 
Southwest CAP 
Grant, Richland, Iowa,
LaFayette, Green 
 608-935-2326
Click Here 
15 
West CAP 
Polk, Barron, St. Croix, Dunn,
Chippewa, Pierce, Pepin 
715-265-4271 
Click Here 
16 
Western Dairyland
EOC 
Buffalo, Eau Claire,
Trempealeau, Jackson 
715-985-2391 
 Click Here
17 
Foundation for
Rural Housing 
Statewide 
608-238-3448 
Click Here 
18 
UMOS 
Statewide 
 608-334-2221
Click Here 
Fill out an application to become a member of Take Root Wisconsin.